G.K. Chesterton (1874 - 1909) was an English poet, journalist, orator, theologian, and art critic, referred to as "the prince of paradox." He is also known for his popular detective short stories written between 1910 - 1936 featuring the Roman Catholic priest and crime sleuth, Father Brown.
Chesterton attended the Slade School of Art, but chose to represent his abstract imagery of ideas with words on paper, rather than paint on canvas. He was also a skilled debater, engaging in many public disputes with the likes of George Bernard Shaw, H.G. Wells, and Clarence Darrow. No doubt he would put our contemporary political pundits to shame. Chesterton's essay on H.G. Wells is featured in our collection of Dystopian Stories. We also feature his Father Brown short story, The Blue Cross in our collection of Mystery Stories.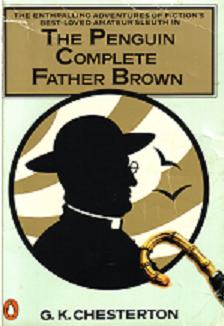 Chesterton had a lot of criticism for both ends of the political spectrum; his literary style imbued popular sayings, proverbs, allegories, which he then turned inside-out. We feature some interesting essays from his collection, What I Saw in America (1922). Chesterton's essay, The Fallacy of Success, in his book All Things Considered (1915) is studied by many high school students. Chesterton also wrote, Charles Dickens: A Critical Study in 1906. Other notable works include Orthodoxy (1908) and The Everlasting Man (1925).