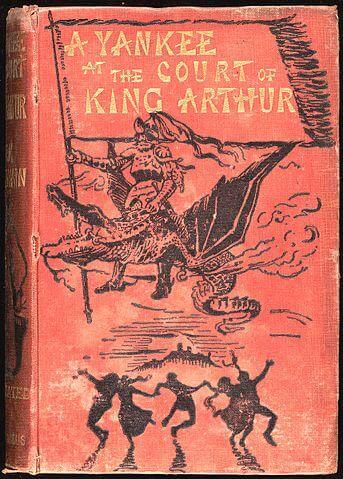 A Connecticut Yankee in King Arthur's Court
---
A Connecticut Yankee in King Arthur's Court is an early example of a classic time-travel story. It recounts the tale of the Yankee Hank Morgan, a 19th century citizen of Hartford, Connecticut who is a skilled mechanic at an arms factory. He awakens to find himself transported back in time to early medieval England. Hank is ridiculed at King Arthur's Court and sentenced to burn at the stake. He fights back with his Yankee ingenuity, making considerable progress until he butts up against a larger force that ushers in some darker events. Mark Twain shows his artistry and cloaks a clever social satire in his highly engaging novel.
A Connecticut Yankee in King Arthur's Court is featured in our collection of 25 Great American Novels
---
Table of Contents
Chapter II: King Arthur's Court
Chapter III: Knights of the Table Round
Chapter IV: Sir Dinadan the Humorist
Chapter X: Beginnings of Civilization
Chapter XI: The Yankee in Search of Adventures.
Chapter XIV: "Defend Thee, Lord"
Chapter XVIII: In the Queen's Dungeons
Chapter XIX: Knight-Errantry as a Trade
Chapter XXII: The Holy Fountain
Chapter XXIII: Restoration of the Fountain
Chapter XXIV: A Rival Magician
Chapter XXV: A Competitive Examination
Chapter XXVI: The First Newspaper
Chapter XXVII: The Yankee and the King Travel Incognito
Chapter XXVIII: Drilling the King
Chapter XXIX: The Smallpox Hut
Chapter XXX: The Tragedy of the Manor-House
Chapter XXXII: Dowley's Humiliation
Chapter XXXIII: Sixth Century Political Economy
Chapter XXXIV: The Yankee and the King Sold as Slaves
Chapter XXXV: A Pitiful Incident
Chapter XXXVI: An Encounter in the Dark
Chapter XXXVII: An Awful Predicament
Chapter XXXVIII: Sir Launcelot and Knights to the Rescue
Chapter XXXIX: The Yankee's Fight with the Knights
Chapter XLIII: The Battle of the Sand Belt
Chapter XLIV: A Postscript by Clarence
Return to the Mark Twain library.