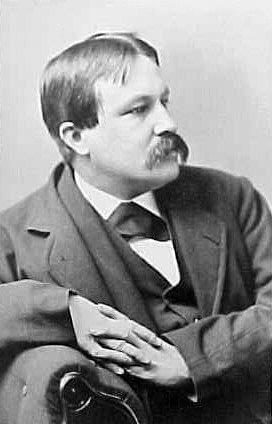 William Dean Howells (1837 - 1920), considered "The Dean of American Letters," was an American author and literary critic with a broad range of works appealing to young and old. His writing style favored naturalism, in which he related his characters' observations in a seemingly casual and endearing manner by embracing their imperfections. Howells inspired many writers, particularly Sherwood Anderson.
Howells was well known during his time. His short story "Christmas Every Day" -- which is featured in our collection of Christmas Stories -- was widely read in his day and his novel The Rise of Silas Lapham is still read in high school and college classrooms as an exemplar of the genre of Realism. His short story The Pumpkin-Glory is featured in Children's Stories.
Howells is also renowned for his turn as the editor of The Atlantic Monthly, where he was a steady champion of the Realist movement in literature. Not only leading by example in his own work, but also arguing for its greater adoption by other writers and artists. He saw realism as "nothing more and nothing less than the truthful treatment of material." Perhaps as a nod for the role of humor in realism, Howells collaborated with Mark Twain in writing Mark Twain's Library of Humor (1888).
He was no fan of writing to high ideals that swapped life's many imperfections for ideal replacements writing, "I hope the time is coming when not only the artist, but the common, average man, who always 'has the standard of the arts in his power,' will have also the courage to apply it, and will reject the ideal grasshopper wherever he finds it, in science, in literature, in art, because it is not 'simple, natural, and honest,' because it is not like a real grasshopper. But I will own that I think the time is yet far off, and that the people who have been brought up on the ideal grasshopper, the heroic grasshopper, the impassioned grasshopper, the self-devoted, adventureful, good old romantic card-board grasshopper, must die out before the simple, honest, and natural grasshopper can have a fair field."