A Comic History of the United States
---
A Comic History of the United States, subtitled, "Copiously Illustrated by the Author from Sketches taken at a safe distance." was published in 1876. Its creative expressions touching on a broad range of historic events and significant milestones, makes for interesting reading over 142 years later. Its dedication:
"It seems the printer has left a blank place on this page for a "dedication." In the early stages of this work, it is true, the author had thought of inscribing it to a wealthy aunt, (who has no other incumbrances,) but on more mature deliberation he has decided to send her instead a nice china shaving mug appropriately inscribed in gold letters, "Forget me Not." It will look less pointed."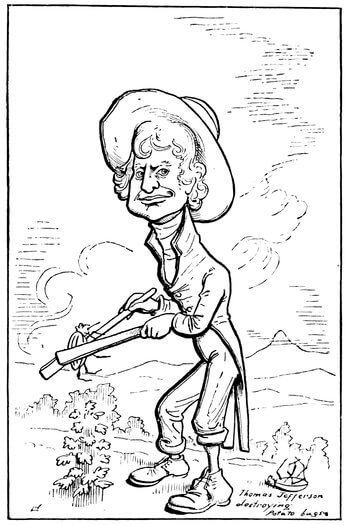 ---
Table of Contents
Chapter I - A FEW STUBBORN FACTS NOT WHOLLY UNCONNECTED WITH THE DISCOVERY OF AMERICA
Chapter II - IN WHICH THE EARLY LIFE OF THIS MAN COLUMBUS IS INQUIRED INTO
Chapter III - TREATS OF OTHER DISCOVERIES AND DOES GREAT CREDIT TO THE AUTHOR'S SENSE OF JUSTICE
Chapter IV - THE AUTHOR PROCEEDS TO SETTLE THE COUNTRY ITSELF
Chapter V - TREATS OF THE EARLY HISTORY OF MASSACHUSETTS
Chapter VI - CONNECTICUT—INDIAN DEFINITION EXTRAORDINARY
Chapter VII - RHODE ISLAND—ROGER WILLIAMS "DEALT" WITH
Chapter VIII - NEW HAMPSHIRE—SLIM PICKING—AN EFFECTIVE INDIAN POLICY
Chapter IX - SOME UNRELIABLE STATEMENTS CONCERNING THE EARLY HISTORY OF NEW YORK
Chapter X - A FLOOD OF HISTORICAL LIGHT IS LET IN UPON NEW JERSEY—ABORIGINES
Chapter XI - PENNSYLVANIA SEEN THROUGH A GLASS DARKLY—WM. PENN STANDS TREAT
Chapter XII - MARYLAND SETTLED—WHAT'S IN A NAME?
Chapter XIII - TWO BIRDS KILLED WITH ONE STONE—A COLORED CITIZEN DECLARES HIS INTENTIONS
Chapter XIV - GEORGIA—SLAVERY—A DARK SUBJECT
Chapter XV - ENGLISH VS. FRENCH—PURSUIT OF BULL-FROGS UNDER DIFFICULTIES
Chapter XVI - THE NAVIGATION ACTS—ILLICIT TOOTHPICKS—A CARGO OF TEA UNLOADED
Chapter XVII - REVOLUTIONARY—A ROW AT CONCORD—A MASTERLY RETREAT
Chapter XVIII - FULL ACCOUNT OF THE BATTLE OF BUNKER HILL—FALSE TEETH AND HEROISM
Chapter XIX - STILL REVOLUTIONARY—THE FIRST FOURTH OF JULY TAKES PLACE
Chapter XX - REVOLUTIONARY AS BEFORE—"PLACE NONE BUT AMERICANS ON GUARD TO-NIGHT"
Chapter XXI - MORE REVOLUTIONARY THAN EVER—LIVELY TIMES AT A WATERING-PLACE
Chapter XXII - IMPRUDENT CONDUCT OF BENEDICT ARNOLD—A REAL ESTATE SPECULATION
Chapter XXIII - THE AFFAIRS OF THE REVOLUTION WOUND UP—CORNWALLIS STEPS DOWN AND OUT
Chapter XXIV - AN INCIDENT OF THE REVOLUTION.
Chapter XXV - HIS HISTORY DABBLES IN POLITICS MUCH AGAINST ITS WISHES—PRELIMINARY OBSERVATIONS
Chapter XXVI - PROGRESS. OUR PATENT OFFICE REPORT—IS NECESSITY THE MOTHER OF INVENTION?
Chapter XXVII - SOME ABORIGINAL IDEAS—WISE MEN AT WORK—MOUND BUILDING FROM FORCE OF HABIT
Chapter XXVIII - AMERICAN SCENERY
Chapter XXIX - SOME WORD PAINTING ON THE SUBJECT OF THE AMERICAN EAGLE
Return to the Livingston Hopkins library.